by William Matakas, President, Marinalg International
April 16, 2013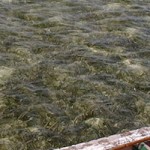 Welcome to Marinalg and our website, recently re-launched to better serve and inform our industry partners, media, scientists and consumers who come to us seeking information about hydrocolloids and their global importance.
Consistent with the goals of most websites, we want to let you know what's new but we also want to provide some historical perspective on the culture, business and value of sea-derived natural ingredients used around the world every day – in many cases for hundreds of years.
As an industry, we support tens of thousands of small family seaweed farms in places like Africa, Indonesia and the Philippines. Sustainable aquaculture means much more than products that make our food more palatable or our pharmaceuticals more stable.
The business of hydrocolloids brings financial stability for farming families throughout coastal communities in emerging countries. These families want what families everywhere strive for and are doing so in a way that is sustainable from one generation to the next.
We are justly proud of what we do and we're determined to provide access to information that is current, accurate and thoughtful.